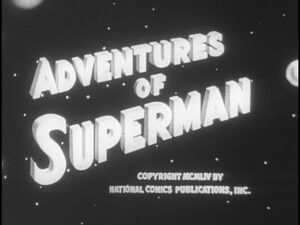 The Adventures of Superman was the first live-action television show starring Superman and ran in syndication from 1952 until 1958. Retaining the cast of characters and general tone of the radio series, the black-and-white program (later broadcast in color) pit Superman against various mobsters and criminals.
The cast was headed by George Reeves as Superman. Lois Lane was played by Phyllis Coates from 1952 until 1953, and by Noel Neill from 1953 until 1958. Also featured were Jack Larson as Jimmy Olsen, John Hamilton as Perry White, and Robert Shayne as Inspector Henderson. The last two season featured Phil Tead in a recurring role as Professor Pepperwinkle, a new character and the resident scientific expert.
Episodes
Community content is available under
CC-BY-SA
unless otherwise noted.