Beany Martin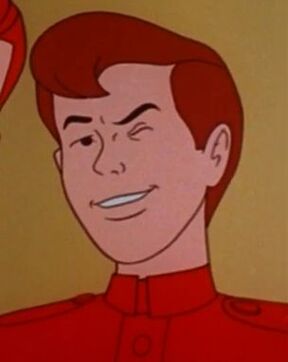 Statistics

Classification
human
Affiliation
Daily Planet
Relatives
Joe Martin (brother)
Beany Martin is the Daily Planet copyboy on radio's The Adventures of Superman. An adolescent with a strangled, adenoidal voice, Beany is the only staffer lower than Jimmy Olsen. In fact, Beany Martin often functioned as a fill-in for Jimmy (on Thursday, when Olsen's radio actor Jackie Kelk had a conflict), though the characters also appeared concurrently on other days.
Beany was primarily a minor comic relief character, used frequently to pass on messages or establish where other Planet staffers had gone. His role was usually only peripheral, but over the show's long run, however, a few exceptions occurred. These usually had Beany teaming up with Jimmy, or coming to Clark Kent for help with a problem. In the 1946 "Counterfeit Money" serial, Beany and Jimmy help young Mary infiltrate a counterfeit gang (although he bows out when he realizes one of the gang is a former neighbor who might spot Beany and blow their cover). In "The Secret of Meteor Island" storyline (1948), while still mostly on the sidelines, Beany is present with Jimmy when dying criminal "The Count" lurches forward, and it's Beany who takes the man to the hospital and passes on the story to Clark.
Beany's most significant role occurred in the 1947 "Ruler of Darkness" storyline. Beany's older brother, Joe Martin, is running for mayor of Metropolis, and the Daily Planet is backing him to the hilt. The opposition use a smear campaign, and a tearful Beany comes to Perry White when the Martin brothers' father is falsely accused of being a bookie. The resulting fallout leads to Perry himself being drafted as the Metropolis' reform party candidate, and winning the subsequent election.
Other media
Beany made a rare TV appearance in later episodes of the animated series The New Adventures of Superman. In "The Mysterious Mr. Mist," he joins other staffers for the annual Daily Planet picnic at Perry White's farm. Beany enthusiastically joins in a baseball game (cheering especially hard for "Mr. Kent"), but he's later pursued by the mist creature, spraining his ankle in flight. Superman saves Beany and the others, but the ball game is swiftly abandoned. In "Luminians on the Loose," he appears at the end with Jimmy, startling Clark Kent by wearing glow-in-the-dark clothing. Jackson Beck supplied his voice once again in this episode.
Community content is available under
CC-BY-SA
unless otherwise noted.