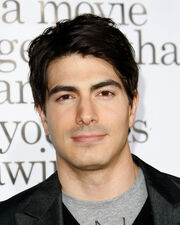 Brandon Routh (born October 9, 1979) portrayed Clark Kent/Superman in Superman Returns. Routh reprised the role years later for the CW's Arrowverse television crossover event Crisis on Infinite Earths, wearing the Kingdom Come costume.
He appears in the documentaries Look, Up in the Sky: The Amazing Story of Superman and Requiem for Krypton: Making Superman Returns.
Trivia
In addition to Superman, Routh has also played the DC superhero Ray Palmer/The Atom in the CW series Legends of Tomorrow and other shows in the Arrowverse, including making cameos in Supergirl.
Routh had previously beaten out Henry Cavill for the role of Superman in Superman Returns. After Bryan Singer's plans for the sequel were scrapped, WB went forward with a complete franchise reboot instead, casting Cavill in the role.
Routh played soccer in high school alongside Jason Momoa, who would go on to play Aquaman in the DC Extended Universe franchise.