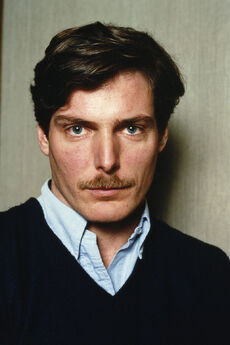 Christopher Reeve (September 25, 1952 – October 10, 2004) portrayed Superman/Clark Kent in Superman: The Movie, Superman II, Superman III and Superman IV: The Quest for Peace. He also portrayed Dr. Virgil Swann on Smallville, appearing in the second season episode "Rosetta" and the fourth season episode "Legacy".
Reeve also appeared in films such as The Bostonians (1984), Anna Karenina (1985), Street Smart (1987), and The Remains of the Day (1993), and in the plays Fifth of July on Broadway and The Aspern Papers in London's West End.
On May 27, 1995, Reeve was paralyzed from the neck down due to a severe spinal cord injury caused by him being thrown off his horse in a cross-country horse riding event. Reeve continued to work in acting and directing, directing In the Gloaming (1997) and acting in the television remake of Rear Window (1998). He also wrote two autobiographical books, Still Me in 1999 and Nothing is Impossible in 2004. Over the course of his career, Reeve received a BAFTA Award, a Screen Actors Guild Award, an Emmy Award, and a Grammy Award. From the 1980s and up until his passing, Reeve was an outspoken activist for environmentalist and human rights causes. Following his accident, he also campaigned for disability rights and stem cell research.
Reeve died on October 10, 2004, 15 days after his 52nd birthday.
Trivia
Reeve attended Juilliard with Kevin Conroy, the actor who voiced Batman in the DCAU. In addition, Reeve was a roommate of Robin Williams, who remained a lifelong friend.
Reeve suffered from asthma and allergies since childhood. At age 16, he began to suffer from alopecia areata, a condition that causes patches of hair to fall out from an otherwise healthy head of hair. Generally, he was able to comb it over and often the problem disappeared for long periods, but he wore a wig for the third and fourth Superman films. After his paralysis, he shaved his head.
Reeve and his wife Dana are the namesakes of the Christopher and Dana Reeve Foundation, a charitable organization dedicated to finding treatments and cures for paralysis caused by spinal cord injury and other neurological disorders. It was originally founded in 1982 and named the Stifle Paralysis Research Foundation, and then later renamed the American Paralysis Association (APA). In 1995, after Reeve was paralyzed, he sought out the help of the APA and lent them his name and funding, In 1996, the foundation was renamed the Christopher Reeve Paralysis Foundation and then the Christopher Reeve Foundation. After Dana's death in 2006, her name was added on to the foundation. All three of the Reeve's children (Matthew, Alexandra, and William) serve on the board of directors.
Gallery