Ella Lane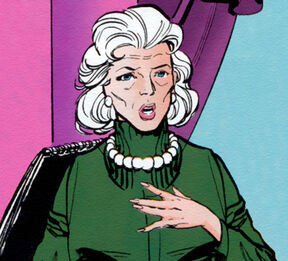 Ella Lane is the mother of Lois and Lucy Lane, and wife of General Sam Lane.
In the post-Crisis universe, she is an older woman with white hair. She helps Lois pick out a wedding dress for her marriage to Clark Kent.
For the continuity following Infinite Crisis, she has been seen in flashback (Who Is Superwoman?), but her status is unknown, especially in light of her husband's involvement during the war with New Krypton.
In Lois & Clark, Ella is renamed "Ellen" and is an alcoholic. She is recently separated from her husband, but over the course of the series, reconciles with him.
For the Smallville continuity, Ella passed away when Lois was younger. She is seen via video recordings she made of herself for her daughters.
In other media