Granny Goodness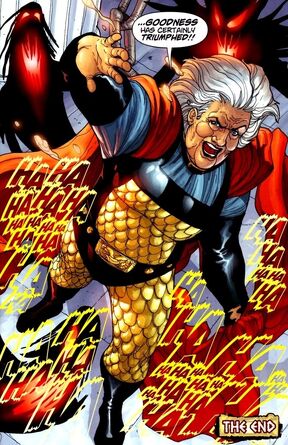 Granny Goodness is a New God from the world of Apokolips. As one of Darkseid's Elite she is in charge of training and indoctrinating new soldiers for Darkseid's forces. She also leads the elite squad of warrior women known as the Female Furies.
History
Granny Goodness did not begin as one of the higher-level residents of Apokolips, but was instead one of the "Lowlies" - the brutally oppressed peasant class. She was removed from her parents and trained to be one of Darkseid's "Hounds" (his elite soldiers). One part of their training was to train their dog; Goodness named hers Mercy. Through combat and training, the two bonded. As the final step of her initiation into life as a Hound, she was told to kill her beloved pet. Instead, she killed her trainer for ordering this. When Darkseid asked why, she answered that "to have done otherwise would have robbed my lord of a most valuable asset," telling him that Mercy would obey her first, but him foremost. Testing this, Darkseid ordered Mercy to kill Goodness. Mercy attacked Goodness, forcing Goodness to kill her pet. Darkseid was impressed, telling Goodness that she had graduated with honors. "You have trained Mercy so well in my name that perhaps you'll do as well training others whose blind obedience I will one day require."
Darkseid had Goodness run the training facility for his elite soldiers, where she used brainwashing and torture, in a brutal parody of child care, to turn the innocent into fanatical warriors willing to kill or die for Darkseid's glory. Since the war between Apokolips and New Genesis first moved to Earth, Granny Goodness has often run Earthly orphanages, looking for potential warriors for Darkseid.
Granny runs the "orphanage" on Apokolips and is the chief of the Female Furies. She also raised Scott Free, the son of Highfather of New Genesis who had been traded for Darkseid's son as part of a peace treaty. Scott Free aka Mister Miracle became the first child to successfully escape one of her Orphanages.
In the final issue of the Amazons Attack miniseries it was revealed that Granny Goodness has been posing as Athena, having been manipulating the Amazons into the war. She tells Hippolyta that it was a test which the Amazons failed. It also appears that Goodness is posing as Athena in the Countdown series, using Amazon centers to recruit new female fighters. She is also holding the Gods of Olympus prisoner. After the gods are freed by Mary Marvel, Holly Robinson and Harley Quinn from an Apokolitian chamber, Granny is attacked and killed by Infinity-Man.
However, she is reincarnated on Earth, along with the other Evil Gods, as a member of Boss Dark Side's gang. Although this form is destroyed by Black Alice in an issue of Birds of Prey, in the Final Crisis of mankind, she takes the body of the Alpha Lantern known as Kraken and uses it to attack John Stewart and frame Hal Jordan for the assault. While she is discovered by Batman, she easily overpowers him and brings him back to the Evil Factory beneath Blüdhaven where he is sealed inside a torture device. Later, Reverend Good announces that Granny Goodness is poised to conquer Oa from within in the name of Darkseid, which would likely reestablish her as his favorite among the Elite.
Granny's attempted assault on the power structure of Oa results in injury to a Guardian, the clearing of Hal Jordan's name, the hiding of the Power Battery and a Green Lantern assault force sent to Earth. After she is stopped by Hal Jordan, she is taken away to be inspected.
Her fate after Final Crisis is left unknown.
Powers and abilities
New God Physiology: Granny Goodness has superhuman reflexes, strength and endurance. She is surprisingly robust and, considering her age, quite good at hand-to-hand combat.
Equipment
As a member of Darkseid's elite, Granny Goodness has access to highly advanced weaponry; in combat she usually uses a mega-rod.
Also, she commands soldiers being trained at her orphanages, including flight troops, who ride on flying aero-discs; armored infantry; and members of the special powers force, who wield deadly weapons and who, in many cases, possess super powers.
In other media
Community content is available under
CC-BY-SA
unless otherwise noted.