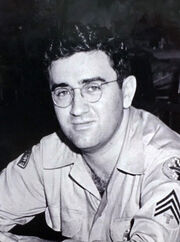 Jerome "Jerry" Siegel (October 17, 1914 – January 28, 1996) was an American comic book writer. His most famous creation was the DC comic book character Superman, which he created in collaboration with his friend Joe Shuster.
Early Life
Siegel was born in Cleveland, Ohio, to a Jewish immigrant family. His parents arrived in New York in 1900, having fled anti-Semitism in their native Lithuania. His father was born Mikhel Iankel Segalovich and his mother was born Sora Meita Khaikels, but they changed their names to Michael and Sarah Siegel after moving to America. Jerry was the last of six children (Isabel, Leo, Minerva, Roslyn, and Harry). His father was a tailor and owned a clothing store.
Siegel's family moved to the Jewish neighborhood of Glenville in 1928. He attended Glenville High School in Cleveland, Ohio. At about age 16, while at Glenville, he befriended Joe Shuster, with whom he shared a love of science fiction, adventure fiction, and movies. Siegel described his friendship with the similarly shy and bespectacled Shuster: "When Joe and I first met, it was like the right chemicals coming together."
On June 2, 1932, Jerry's father was assaulted in his store by a shoplifter and suffered a fatal heart attack. Jerry's mother died of a heart attack on August 17, 1941.
Creating Superman
In 1933, Siegel and Shuster created a short story titled "The Reign of the Superman" in which the title character, a bald telepathic villain, was bent on dominating the world. The story was not successful, and the character was not used again. Later, they reused the name The Superman for a new character, a superpowered hero who stood up for the oppressed.
After six years of searching, the first Superman comics were published by National Allied Publications, the primary precursor of DC Comics. Editor Vin Sullivan chose it as the cover feature for National's Action Comics #1 (June 1938). The following year, Siegel and Shuster initiated the syndicated Superman comic strip. As part of the deal which saw Superman published in Action Comics, Siegel and Shuster sold the rights to the character in return for $130 and a contract to supply the publisher with material.
Career and Legal Troubles
In 1946, near the end of their 10-year contract to produce Superman stories, Siegel and Shuster sued DC to have their contract annulled and regain the rights to Superman. The following year, the New York State Supreme Court ruled the publisher had validly purchased the rights to Superman when it bought the first Superman story, saying the duo had "transferred to Detective Comics, Inc., all of their rights in and to the comic strip Superman, including the title, names, characters and conception." A subsequent interlocutory judgment found that the rights to Superboy, however, belonged to Siegel. DC subsequently paid Siegel and Shuster $94,000 for the rights to Superboy and the duo's written agreement acknowledging the rights to Superman belonged to the publisher. After this, the company removed Shuster and Siegel's byline from Superman stories.
Siegel returned to DC Comics in 1959 at the prompting of his second wife. Although he did write some Superman stories, he no longer had any creative control, but instead answered to the direction of his editor. During this time, he wrote extensively about the team the Legion of Super-Heroes, adding many enduring characters to its cast. Siegel's contributions during this time are difficult to determine because DC Comics did not generally give creator bylines. His last work for DC was a short story included in Superman's Pal Jimmy Olsen #89 (December 1965). DC stopped giving him work in 1966 after learning Siegel and Shuster were planning a second lawsuit to reclaim the copyright to Superman. Siegel and Shuster lost that lawsuit.
In 1975, Siegel and Shuster launched a campaign protesting DC Comics' treatment of them. Due to the negative publicity over their handling of the affair, and the upcoming Superman movie, DC's parent company Warner Communications reinstated the byline dropped more than thirty years earlier and granted the pair a lifetime pension of $20,000 a year, later increased to $30,000, plus health benefits. The first issue with the restored credit was Superman #302 (August 1976).
Death
Siegel died on January 28, 1996, of a heart attack.