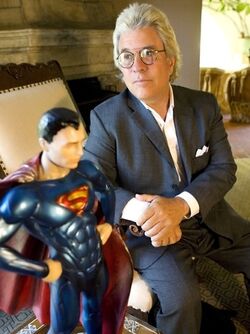 Jon H. Peters is the producer of Superman Lives, Superman: Flyby and Superman Returns. He is also credited as Executive Producer on Superman 50th Anniversary & Man of Steel.
Peters' input and agendas during these productions have been the subject of much controversy and criticisms with colleagues and fans alike.
Superman productions
Superman: Reborn/Superman Lives
Peters is probably best known for the list of outrageous directives he to gave to Kevin Smith for his drafts of Superman Lives, particularly his desire to see Superman fight a giant spider which Smith called the "Thanagarian Snare Beast". On the Howard Stern show, Tim Burton claimed Peters wanted Superman to wear basketball shorts and flame-boots at one point.
Superman Flyby
Superman Returns
Superman Returns sexual harassment scandals
Fondling personal assistant
A jury found Peters guilty of sexual harassment and ordered him to pay more than $3 million to former personal assistant, Shelly Morita.[1] Morita claimed that Peters fondled her at his Malibu home and climbed into bed with her in an Australian hotel during the 2005 filming of Superman Returns.[2] The lawsuit stated things like: "On many occasions while plaintiff was performing her duties, Peters would rub plaintiff's legs or walk by and grab plaintiff's breasts or buttocks, all without her consent." During a car ride the two shared while in Australia, "Peters kept on asking plaintiff to smoke marijuana, and when plaintiff refused, he tried to blow the smoke on Plaintiff's face, leaned towards plaintiff and started kissing plaintiff." Morita also claimed that Peters exposed himself to her three-year-old daughter, and asked the child, "Do you want to see how boys go pee?"[3]
She also said she couldn't find work in Hollywood after suing Peters because of his pull in the industry.
Threatening and fondling male assistant
In 2008, Brian Quintana, former assistant and co-producer of the then up-coming Superman: Man of Steel sequel, also filed a harassment suit against Peters. The suit stated that there were "multiple instances where he was physically, sexually harassed by Peters, including being groped by male individuals at Peters' behest." Peters would "wrestle and rough up [Quintana] in a sexual manner . . . fondle himself in front of [Quintana] . . . often place his hand on [Quintana's] leg in a sexual manner," as well as "touch" his buttocks, the suit alleged. Quintana's court papers also charged that Peters threatened to "break his legs" and fired him after he refused to "perjure himself" by signing documents stating that Peters had completed community service for a DUI conviction.[4]
Quintana later dropped the suit against Peters, saying "It was an honor to work for Jon Peters, I regret filing a lawsuit against him and apologize for any harm or embarrassment this action caused him, his businesses and his family." Quintana's statement did not indicate whether he settled with Peters or chose not to pursue the case for other reasons.[5]
Gallery
References
External links