Kevin Whitney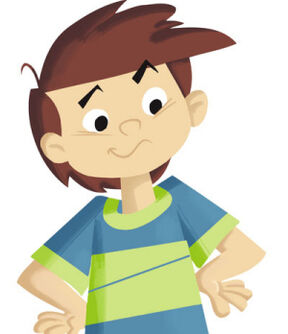 Kevin Whitney is a young boy who is the owner of Krypto, the Superdog. He only appears in the animated series Krypto the Superdog, as Superman is Krypto's owner in the comics. Even though Superman is happy to be reunited with Krypto, he decided to let him stay with Kevin so he couldn't be lonely, and for Krypto to be with a child.
In the series, he helps Krypto and acts as a sort of Human sidekick, often accompanying the dog on adventures. During these adventures, he meets the Dog Star Patrols and Ace the Bat-Hound.
He also has a little sister named Melanie, who refers to Krypto as "Kippo".
He is best friends with his next door neighbor Andrea, the owner of Streaky.
He lives in the suburbs of Metropolis and goes to Superman Elementary School.
He has a naughty cousin named Bailey who discovers Krypto is Superdog. He tries many times to expose him, but Kevin, Krypto, and Andrea manage to make the adults think he was lying.