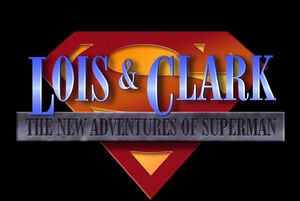 Lois & Clark: The New Adventures of Superman is a 1990s live-action television show featuring Superman, but focusing on the Clark Kent side of his personality and his interactions with Lois Lane and their romance, as well as the rest of the staff of the Daily Planet.
The show starred Dean Cain as Superman, and Teri Hatcher as Lois Lane.
The show's stories usually begin with the Daily Planet's reporters investigating political corruption or criminal activity. The viewer is nearly always given the answer to the mystery in advance through scenes from the villains' perspective, so the tension instead centers around whether Lois and Clark can figure out what is going on before the villains' plan is fulfilled, and secondarily around Lois and Clark's romantic struggles. Clark often has to find a way to use his powers in secret to protect himself and Lois or to find more clues, without the opportunity to discretely change to Superman.
The cast centered around mainstays of the Superman mythos such as Jimmy Olsen, often supplemented by characters created specifically for the series such as Dr. Klein and Star McAdams. Three recurring villains made several appearances in the show: Superman's arch-nemesis Lex Luthor, Intergang agent Bill Church Jr., and Tempus, an evil fugitive from the future.
Cast
Perry White: Lane Smith
Jimmy Olsen: Michael Landes (Season 1), Justin Whalen (Seasons 2-4)
Catherine "Cat" Grant: Tracy Scoggins (Season 1)
Jonathan Kent: Eddie Jones
Martha Kent: K Callan
Lex Luthor: John Shea (Season 1 only, made guest appearances in the other seasons)
Gallery
See also