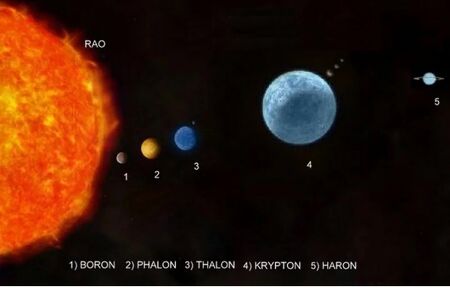 The Rao System is the planetary system that is home to the planet Krypton, throughout the various continuities and versions the system has varied significantly.
Celestial Bodies
The amount of planets and celestial bodies varies greatly throughout different continuities, realities, and timelines. Post-Crisis on Infinite Earths the planetary system was established as having five planets within it.
Rao - Central body of the system, consistently portrayed as a red star.
Others:
Location
The location of the solar/planetary system has varied dramatically from continuity to continuity. Sometimes the system is as few as 20 light years distance from earth, and other times in completely different galaxies. Every location will be listed here with the source material to avoid confusion as much as possible.
Atlas of the DC Universe - The red sun krypton orbits is located 50 light years away from Earth.
In Superman: Birthright - Krypton is a megagravity planet circling an M3 star in the Andromeda Galaxy.
"Star Light, Star Bright..." - Neil Degrasse Tyson identifies Krypton as orbiting the star LHS 2520, 27 light years from Earth.
In a deleted scene of Superman: The Movie, Krypton is located in the Xeno Galaxy.
In other media
Argo - Typically Argo in most continuities is a city on Krypton, in Superman: The Animated Series (and accompanying DCAU tie-ins) it is a planet seemingly within the same orbit of Krypton on the opposite side of Rao (the Superman Adventures comics state it is the fourth planet from the sun). It is inhabited by a humanoid people called the Argoans who are largely identical to Kryptonians.
Blue Moon - Mentioned in the Superman Adventures comic as a moon of Argo.
In Superman Returns, a sequence in which Superman journeys to his home planet was cut from the film. When he reaches the former location of Krypton, all he finds is debris. A number of concept pieces were developed for the scene, and some footage was shot.
Community content is available under
CC-BY-SA
unless otherwise noted.