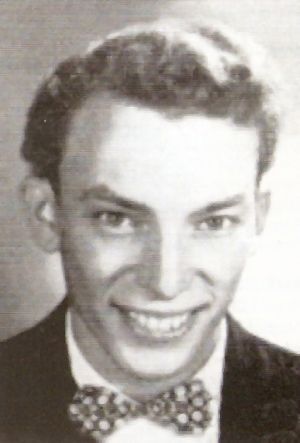 Ronald Liss, also credited as Ronny Liss, was a radio actor who played Robin whenever he appeared on The Adventures of Superman, from the character's first appearance in 1945 through the end of the series. He also doubled in other juvenile roles in specific serials (notably as thirteen year-old Bucky Taylor in "The Man Without a Face").
Years later, in 1966, Liss wrote all of the stories for the children's record The Official Adventures of Superman and was heard in the cast. He also reprised his role as Robin for a 1950 Batman spin-off audition record (the equivalent of a radio pilot), but the series failed to sell.
Liss began his radio career as a child actor, and at the age of four, he was a regular singer/storyteller on the children's series Coast to Coast on a Bus (which began in 1924; he played the ticket collector for the White Rabbit bus line). He retained a youthful sound through adolescence, and thus was often cast as children, teenagers, or other roles in the often nebluous realm of the radio "juvenile" (including, on rare occasions, young college students). Prior to and during his run on Superman, Liss often played the kid sidekick to Matt Crowley (the primary radio Batman) on such comic strip-based adventure series as Mark Trail (1950s, as Scotty) and Buck Rogers in the 24th 1/2 Century (as Bobby).
During WWII, Liss was heard in several episodes of This Is Our Enemy (1942-1943), usually typecast as boys indoctrinated with Nazi philosophy or European children slaughtered by the Germans. He was a regular on the 1941-1945 soap opera Bright Horizons as Bobby, the waif adopted by the hero Michael West. He also worked on such prestigious dramatic anthologies as The Columbia Workshop, The Cavalcade of America (with Bud Collyer as commercial announcer), and The Eternal Light.
In the 1950s, as with many of his Superman co-stars, Liss was heard on the sci-fi anthology X-Minus One and, when the series relocated to New York, Suspense. During the 1960s, in addition to the Superman record, Liss scripted and voiced several comic book or superhero themed "Official Adventures" albums for the MGM/Leo the Lion label, featuring the likes of Flash Gordon, the Green Hornet, and DC's the Flash, Aquaman, the Green Lantern, and inevitably, Batman.