Smallville is a live-action Superman television series created by Alfred Gough and Miles Millar alongside Tollin/Robbins Productions . It is a one-hour, prime-time drama, which chronicles the adventures of a young Clark Kent (Tom Welling) and his journey to becoming Superman. The series, initially broadcast by The WB, premiered on October 16, 2001. After Smallville's fifth season, The WB and UPN merged to form The CW. It concluded on May 13, 2011 after ten seasons, with 217 episodes in total.
The series' early years pit Clark against numerous Meteor Freaks, people mutated by Kryptonite into superpowered monsters, while also having him deal with his turbulent romance with Lana Lang (Kristen Kreuk) and friendship with Lex Luthor (Michael Rosenbaum).
Two new main characters were introduced to the Superman mythos in the show: Chloe Sullivan (Allison Mack), Clark's pseudo-sidekick, and Lionel Luthor (John Glover), Lex's rich and powerful father. Although Lex Luthor's father had previously appeared in the comics, this was the first time his character was fully fleshed out and given the name Lionel.
Later in the series' run, more prominent figures from the Superman mythology appeared such as Lois Lane (Erica Durance), Perry White, Jimmy Olsen, Supergirl (Laura Vandervoort), and Connor Kent, as well as famous supervillains like Doomsday, General Zod, Brainiac, Metallo, and Darkseid. Various heroes from the DCU also appeared. The series wrapped up its ten year run with the appearance of Superman saving the planet from the Apokolips.
In 2019, Tom Welling and Erica Durance reprised their roles for the Arrowverse adaptation of the crossover event Crisis on Infinite Earths, during which it was revealed that, per the Arrowverse's use of the Multiverse, the Earth of the series' universe is designated as Earth-167, a reference to Alfred Gough and Miles Millar's shared birth year of 1967.
Main Characters
Previous Characters
Heroes/Allies
Justice League

The Martian Manhunter
Impulse/Kid Flash
Black Canary
Aquaman
Hawkman
Doctor Fate
Stargirl
Cyborg
Speedy (Mia Dearden)
Zatanna
Blue Beetle
Booster Gold
Batman (Season 11)

Batgirl/ Barbara Gordon (Season 11)
Jay Garrick [The Flash] (Season 11)
Wonder Woman (Season 11)
Ms. Martian (Season 11)
---
Villains
Brainiac/Milton Fine
Intergang
Checkmate

Amanda Waller
The Suicide Squad

Deathstroke
Darkseid

Granny Goodness
Gordon Godfrey
Desaad
The Female Furies

Otis Berg (Season 11)
Cyborg Superman (Season 11)
Prankster (Season 11)
Mr. Freeze (Season 11)
Brain and Monsieur Mallah (Season 11)
Black Flash (Season 11)
Kirt Niedrigh (Season 11)
Felix Faust (Season 11)
Hades (Season 11)
Seasons
Season 1 - Introduces Clark Kent and and his friends (Pete Ross and Chloe Sullivan) and parents, his situation in Smallville involving his discovery of his alien heritage and his arrival during the meteor shower of 1989. It focuses on his friendship with future enemy Lex Luthor and his romance with childhood crush Lana Lang. Clark already has super-strength and speed at the start of the series but also discovers his first extra power of X-Ray Vision. Clark also discovers he has a weakness to the meteor rocks (aka Kryptonite) scattered around the town.
Season 4 - Introduces Lois Lane for the rest of the series. Clark encounters a new hero Bart Allen also known as Impulse, Clark discover the crystal of knowledge which leads him to the arctic after stoping a second meteor shower. Also Clark's other friend Chloe Sullivan finds out about Clarks secret.
Season 6 Introduces The Phantom Zone, Phantom wraths, the debut of Oliver Queen aka: Green Arrow into the series. Clark's first team up with the Justice League and an encounter with Martian Manhunter.
Season 8 - Lana and Lex have left, and it takes place more in Metropolis now. Clark works at The Daily Planet alongside Lois, The news becomes aware of an anonymous hero known only as the Red-Blue Blur saving people while a threat of a serial killer known as Doomsday is also at large plaguing the city.
Season 10 - The final season of Smallville. This season features the return of Lex Luthor, as well as the appearance of Darkseid. Chloe Sullivan is no longer a regular in this season, appearing only as a recurring guest star. And the real Superman costume finally appears.
Season 11 - A 2012 comic book continuation of the TV series.
Other Media
Prose
Upon Smallville's launch, a series of paperback novels was launched, along with a series of young adult novels. These stories chronicled some of Clark's adventures that took place during the first few seasons. Both series died out before too long. See Smallville novels for information on both series.
Comic Books
There have additionally been comic book adaptations of Smallville. During the first few seasons, a comic series simply titled "Smallville" ran stories taking place concurrently with the show. It also had special features including episode guides and interviews with the actors.
Additionally, one online comic story was made in conjunction with Stride Gum, entitled "Smallville: Visions".
After the show's final season ended, Smallville Season 11, a new regular comic series, continued the story from the TV series.
Webisodes
Chloe Sullivan had her own live-action series of webisodes, called the Chloe Chronicles, which tied in with current episodes of Smallville. The series was later renamed the Vengeance Chronicles.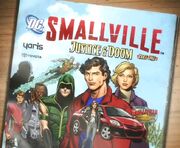 Additionally, there were a few different web cartoon series. One series was an animated comic book featuring the Justice League, Smallville Legends: Justice & Doom. There was a series based on the character of Green Arrow/Oliver Queen from the show, "Oliver Queen Chronicles". Kara Zor-El also got her own webseries, Smallville Legends: Kara and the Chronicles of Krypton, which expanded on her origins.
Gallery
External links