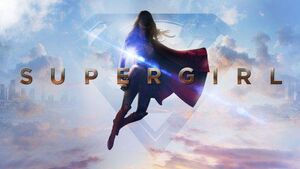 Supergirl is a live-action TV series based on the character of the same name developed by Ali Adler, Greg Berlanti and Andrew Kreisberg. Originally airing on CBS and conceived as separate from the Arrowverse, it began airing on sister network The CW since 2016 and became part of the CW's DC superhero Multiverse. The universe of Supergirl takes place on Earth-38, a reference to the year Superman debuted in Action Comics #1 (1938). After the Crisis on Infinite Earths event, Earth-38 merged with others to create the world of Earth-Prime.
The series focuses on Kara Zor-El (Melissa Benoist), a Kryptonian who escaped from her dying planet as a teen, sent after her infant cousin Kal-El (Tyler Hoechlin) to take care of him. However, her ship was knocked off-course into The Phantom Zone, where Time Stands Still, and by the time she made it to Earth, Kal-El was already a famous superhero, operating under the moniker "Superman" and the civilian name Clark Kent. Kal-El sent Kara to live with the Danvers family, where she grew to adulthood alongside their daughter Alex (Chyler Leigh). Twelve years after coming to Earth, Kara decides to use her powers to become a hero like her cousin.
Other characters include Cat Grant (Calista Flockhart), the head of media conglomerate CatCo, whom Kara works for in her civilian guise; James Olsen (Mehcad Brooks), an art director for CatCo; Winn Schott (Jeremy Jordan), a programmer for CatCo and Kara's neighbor; and J'onn J'onzz (David Harewood), a benevolent Martian and director of the Department of Extra-Normal Operations, a secret government agency where Alex also works. Later seasons introduced Mon-El (Chris Wood), a Daxamite prince who crash-lands on Earth and develops a romance with Kara; Lena Luthor (Katie McGrath), CEO of L-Corp and half-sister of Lex Luthor; Eve Teschmacher (Andrea Brooks), a loyal supporter of Lex Luthor who initially poses as a CatCo employee; Maggie Sawyer (Floriana Lima), an NCPD cop; Samantha Arias (Odette Annable) the new CFO of L-Corp who harbors the split personality of a hostile Kryptonian; Querl Dox (Jesse Rath), a Coluan and member of the Legion of Super-Heroes who eventually joins the D.E.O. as a strategist; Nia Nal (Nicole Maines), a CatCo reporter, psychic, and an ally to the Superfriends; Ben Lockwood (Sam Witwer), the leader of the anti-alien group called the Children of Liberty; Lauren Haley (April Parker Jones), a former officer tasked by the US government to oversee the D.E.O.; Kelly Olsen (Azie Tesfai), James' younger sister and a psychologist; Andrea Rojas (Julie Gonzalo), head of the tech company Obsidian North who takes over CatCo in the fifth season; William Dey (Staz Nair), a new reporter for CatCo who frequently butts heads with Kara; and Nyxlygsptlnz (Peta Sergeant), the exiled Princess of the Fifth Dimension and an ally of Kara in the Phantom Zone.
In 2019, a spin-off series centered on Superman and Lois Lane (Elizabeth Tulloch) was announced. Titled Superman & Lois, it began airing in 2021.
Plot
Season 1
In the first season, Kara is forced to reveal her powers, and becomes National City's protector. In the process, she discovers that hundreds of the criminals her mother imprisoned are hiding on Earth, including her aunt Astra and Astra's husband Non. Kara works with her adoptive sister Alex Danvers to fight these criminals, alongside the Green Martian J'onn J'onzz, her cousin's friend James Olsen, and tech genius Winn Schott.
Season 2
Kara and her allies deal with feuds between Earth's native populace and extraterrestrial community, and investigate the shadowy organization Project Cadmus, masterminded by Lillian Luthor, mother of Lex Luthor. Meanwhile, Kara befriends Lillian's stepdaughter, Lena Luthor, the new CEO of LuthorCorp, and struggles with romantic feelings for recent Earth arrival Mon-El, a princely survivor from Krypton's neighboring planet Daxam, whose parents wish to reclaim him. James becomes the masked vigilante Guardian; Alex begins dating Maggie Sawyer; and J'onn befriends a younger Martian, M'gann, from the White Martian race that killed his people.
Season 3
Kara struggles with the loss of Mon-El after he is forced to leave Earth. When Mon-El returns, he reveals that he has time-traveled to the 31st century and founded the Legion, as well as married Imra Ardeen. J'onn discovers his father M'yrnn J'onzz is alive and Alex deals with her heartbreak after breaking up with Maggie. Kara and Alex's new friend, Samantha Arias, discovers she is also a Kryptonian survivor, and begins a transformation from a loving single mother into the world-killing weapon known as Reign.
Season 4
Kara deals with a new wave of anti-extraterrestrial prejudice secretly instigated by Lex Luthor from prison, forcing her to fight for the civil and political rights of aliens. Ben Lockwood, a former college professor who suffered a series of personal tragedies at the hands of extraterrestrials, forms a human-first group called the Children of Liberty to end all aliens. Meanwhile, in the nation of Kasnia, a clone of Kara dubbed "Red Daughter" is trained by its military to fight Supergirl at Lex's request. Kara and Alex clash with the DEO's new addition, Col. Lauren Haley, who was sent to monitor the DEO's progress under Alex's direction. Col. Haley and the President try to force Supergirl to reveal her identity, and causing the feud to escalate when she refuses.
Season 5
Kara and her friends find themselves facing a new threat known as Leviathan, who sends their agent Rama Khan, a centuries-old immortal being who can bend the Earth, to kill Kara. Following a multiverse destroying Crisis, Kara adjusts to her new life on the newly created "Earth-Prime", while being forced to work under Lex and Leviathan continues their covert operations under Gamemnae.
Season 6
Lex attempts to finish what the Anti-Monitor started after the latter failed in conquering the multiverse. He successfully imprisons Kara in the Phantom Zone as her friends figure out a way to bring her back out. Kara discovers her father in the Phantom Zone.
Characters
Main Cast
Mehcad Brooks

as James Olsen (Season 1-5)[3][4]

Jeremy Jordan

as Winslow 'Wynn' Schott, Jr (Main cast in Season 1-3; recurring guest star in Season 5-)[3][6]

David Harewood

as J'onn J'onzz/Martian Manhunter/Hank Henshaw[3][7]

Floriana Lima

as Maggie Sawyer (Main cast in Season 2; recurring guest star in Season 3)[10]

Katie McGrath

as Lena Luthor (Main cast in Season 2; recurring guest star in Season 3-)[14][15]

Odette Annable

as Samantha Arias/Reign (Season 3, guest star in season 5)

Jesse Rath

as

Querl Dox/Brainiac 5

(Main cast in Season 3; recurring guest star in Season 4-)[16]

Sam Witwer

as

Ben/Agent Liberty

(Season 4, guest star in season 5)[17]

Azie Tesfai

as Dr.

Kelly Olsen

(Main cast in Season 5; recurring guest star in Season 4)

Andrea Brooks

as Eve Teschmacher (Main cast in Season 5; recurring guest star in Season 2-4)

Julie Gonzalo

as

Andrea Rojas/Acrata

(Season 5)

Staz Nair

as

William Dey

(Season 5)

LaMonica Garrett

as

Mar Novu/The Monitor

and

Mobius/Anti-Monitor

(Season 4-5)(voice)
Recurring Roles
Helen Slater as

Eliza Danvers

(Season 1-)[21]

Laura Benanti

as Alura Zor-El (Season 1-2) and

Astra

(Season 1) [22]

Peter Facinelli

as

Maxwell Lord

(Season 1)[25]

Italia Ricci

as Siobhan Smythe/Silver Banshee (Season 1)[29]

Robert Gant

as Zor-El (Season 1)
Tyler Hoechlin as Clark Kent / Kal-El / Superman (Season 2,4-)[30][31][32][33]

Malina Weissman

as young Kara (Season 1-2)[34]

Jordan Mazarati

as young Alex (Season 1-2)

Briana Venskus

as Agent Vasquez (Season 1)

Lynda Carter

as President

Olivia Marsdin

(Season 2-4)[36]

Ian Gomez

as

Snapper Carr

(Season 2)[37]

Kevin Sorbo

as Lar Gand, the King of Daxam (Season 2)
Teri Hatcher as Rhea, the Queen of Daxam (Season 2)[38][39]

Frederick Schmidt

as

John Corben/Metallo

(Season 2)

Sharon Leal

as

M'gann M'orzz/Miss Martian

(Season 2-)

Curtis Lum

as

Demos

(Season 2)

Tamzin Merchant

as

Lyra Strayd

(Season 2)
Erica Durance as Alura Zor-El (Season 3)

Adrian Pasdar

as Morgan Edge (Season 3)

Carl Lumbly

as

M'yrnn J'onzz

(Season 3)

Yael Grobglas

as

Gayle Marsh/Psi

(Season 3)

Emma Tremblay

as

Ruby Arias

(Season 3)

Olivia Nikkanen

as Young Alex (Season 3)[40]

Izabela Vidovic

as Young Kara (Season 3)

Amy Jackson

as

Imra Ardeen/Saturn Girl

(Season 3)[41]

Ruby Rose

as Kate Kane/Batwoman (Season 4-)[42]
Elizabeth Tulloch as

Lois Lane

(Season 4-)[43][44]

David Ajala

as

Manchester Black

(Season 4)[18]

Rhona Mitra

as

Mercy Graves

(Season 4)[45]

Robert Baker

as

Otis Graves

(Season 4-5)[45]

Bruce Boxleitner

as Vice President Phil Baker (Season 4)[46]

Anthony Konechny

as

Raymond Jensen

(Season 4)[47]
TBA as

Lon-El

(Season 4)[48]

Xander Berkeley

as

Peter Lockwood

(Season 4)[49]
Jon Cryer as Lex Luthor (Season 4-)[50]

Sarah Smyth

as

Lydia Lockwood

(Season 4)

Graham Verchere

as

George Lockwood

(Season 4)

Donna Benedicto

as Agent

Reiff

(Season 4)

Steve Byers

as

Tom

(Season 4)

Roxy Wood

as

Yvette

(Season 4)

Jessica Meraz

as

Pamela Ferrer/Menagerie

(Season 4)

Louis Ozawa Changchien

as Hat (Season 4)

Francoise Robertson

as

Sarah Walker

(Season 4)
Phil LaMarr as

Malefic J'onzz

(Season 5)

Ellexis Wejr

as

Mallory

(Season 5)

Kari Wahlgren

as

Hope

(voice) (Season 5)

Nick Sagar

as

Russell Rogers/Rip Roar

(Season 5)

Cara Buono

as

Gamemnae

(Season 5)

Mitch Pileggi

as

Rama Khan

(Season 5)

Thomas Lennon

as Mxyzptlk (Season 5)
Production
Warner Bros. Television was looking to create a television series centered around Supergirl. Executive producers for the series included Greg Berlanti (also a creator/producer for Arrow and The Flash) and Ali Adler, who also both wrote the script, and Berlanti Productions' Sarah Schechter.[51] Berlanti confirmed the show shortly after, and stated it was in development and had yet to be pitched to networks.[52] On September 19, it was announced that CBS would air the series, titled Supergirl with a series commitment. [45] On October 29, 2014, Arrow and The Flash casting director David Rapaport tweeted that he would be the casting director for the series.[53] Berlanti has hinted that the series will be part of the  Arrow and The Flash.[54] In January 2015, it was announced that Melissa Benoist was cast as Supergirl.[2] In February 2015, Andrew Kreisberg joined the crew as a writer and executive producer for the series.[55]
Seasons
Gallery
References
External links