Supergirl (movie)

Released
November 21, 1984
Directed by
Jeannot Szwarc
Written by
David Odell
Music by
Jerry Goldsmith
Duration
124 min
Studio
TriStar Pictures
Rated
PG
Budget
$35 million
Revenue
$14,296,438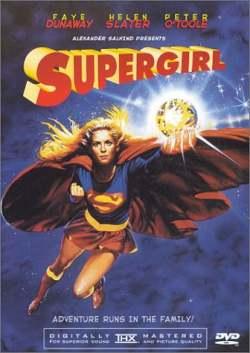 Supergirl is a 1984 superhero film. It stars Helen Slater in her first motion picture role in the title role of the DC Comics superheroine Supergirl. Faye Dunaway (who received top billing) played the primary villain, Selena. The movie was a spin-off from the popular Superman film series which lasted from 1978 to 1987 starring Christopher Reeve. The movie also featured Marc McClure reprising his role as Jimmy Olsen.
The movie performed poorly at the box office and failed to impress critics and audiences. Helen Slater, however, was nominated for a Saturn Award for her strong performance by the Academy of Science Fiction, Fantasy & Horror Films. The film does contain some expansions on the Superman movie mythology, such as taking the viewer into the Phantom Zone itself (in the first two Superman films, it was merely represented by a spinning black pane of glass). The story uses sorcery (a noted Superman weakness, but less favored over kryptonite) as a counter attack on Supergirl to great effect.
Released on video over the years by different companies, the film's first DVD release was on independent home video company Anchor Bay Entertainment in 2000 under license from StudioCanal. Warner Bros. recently acquired the rights to the film and reissued it on DVD late in 2006 to coincide with the reissues on DVD of the other Superman films. However, even though it is technically part of the same series of films as the ones produced between 1978 and 1987 with the late Christopher Reeve, it is not included in any of Warners' Superman-related 2006 box set DVD collections.
Plot
Kara Zor-El (Helen Slater) lives in an isolated community, a Kryptonian city called Argo City, in a pocket of trans-dimensional space. Zaltar (Peter O'Toole) allows Kara to see a unique item known as the Omegahedron, which he has borrowed without the knowledge of the city government, and which can infuse an artificial structure with life. She uses it under the tutelage of Zaltar to make a dragonfly-like creature; this creature breaches a window of the community and in the decompression that follows, the Omegahedron (which also powers the city) is sucked out into space. Kara follows it to Earth in an effort to recover it and save the city, which will die without it.
On Earth, the Omegahedron is recovered by Selena, (Faye Dunaway) a would-be witch, who quickly realizes that it can be used to allow her to perform real magical spells. On the radio, Selena hears that Superman has just left on a peace-seeking mission to a galaxy several light years away. Kara, now dressed as Supergirl, arrives on Earth and discovers her powers. Following the path of the Omegahedron, she takes the name Linda Lee, identifies herself as the cousin of Clark Kent, and enrolls at an all girls school. Supergirl and Selena are both enamored by Ethan, who works as a groundskeeper at the girls' school. After Selena misuses the Omegahedron to make herself a "princess of Earth", she drugs Ethan with a potion to make him love her and serve as her consort. Supergirl rescues Ethan and breaks him of Selena's spell. Supergirl and Selena repeatedly battle in various ways, until Selena uses her powers to put Supergirl in an "eternal void" known as the Phantom Zone. Here, stripped of her powers, she wanders the bleak landscape and nearly drowns in an oily bog. Yet she finds help in Zaltar, who has been imprisoned for losing the Omegahedron. Zaltar sacrifices his life to allow Supergirl to escape. Back on Earth she regains her powers and defeats Selena by trapping her in the Phantom Zone. Ethan admits his love for Kara, but knows it is possible he may never see her again and understands she must save Argo City. The final scene shows Kara returning to a darkened Argo City, which promptly lights up again.
Brief history
Upon gaining the rights for the film Superman, Alexander Salkind and his son, Ilya Salkind, also purchased the rights to the character of Supergirl, should any sequel or spin-off occur.
Although the Salkind duo financed the film completely on their own budget, Warner Bros. still lent a big hand in the process, as it originally owned the distribution rights to the film, and as its parent company of Warner Communications was now the whole owner of DC Comics, it shared in ownership of the copyright. The entire film was shot, edited, and overlooked by Warner Bros. However, two weeks or so before the film's original summer 1984 premiere date, Warner Bros. dropped the film due to the disappointing performance of Superman III, both critically and financially. Supergirl was then shelved for a few months, without distribution, until fledgling company TriStar Pictures picked it up for holiday release in November. The company decided to edit the picture, cutting it from 124 minutes to 105 minutes. The drastic changes were not only damaging to the film's original intention, but also hampered the performances of stars Faye Dunaway and Helen Slater.
Upon its release, the film disappointed its anticipation. Contrary to popular belief, the film was not a major flop, but a mere disappointment. It was still the #1 movie of the box office during its first weekend. What contributed to the film's uprising was imported Laserdisc releases of the 124-minute version in the U.S.
In 1990, a re-release of the film on VHS was released by Avid Home Entertainment, featuring the 105 minute version of the film in EP mode.
By the middle of the 1990s, the rights to the film were acquired by Pueblo Film Licensing (successor-in-interest to the Salkind production company) and French production company StudioCanal, and Anchor Bay Entertainment had assumed the video rights. For their DVD release in 2000, two versions were issued: a 2-disc "Limited Edition" set (limited to 50,000 copies only) featuring both the 124-minute "International Version" (never seen in the U.S.), and a "director's cut" of 138 minutes, which had been discovered in StudioCanal's archives, and the last print of the latter version known to exist (apparently this "director's cut," which itself had been edited from a 150-minute rough cut, was prepared for release before the film was edited into its various versions), and a single-disc version featuring the 124-minute "International Version." In 2002, Anchor Bay would re-issue the 138 minute "director's cut" separately as well, where as it was only previously available through the 2-disc "Limited Edition" set. Although the introduction to Anchor Bay's out-of-print "director's cut" DVD claims the longer version is the only cut to represent the vision of director Jeannot Szwarc, it has also been said the cut was prepared for television syndication as overseen by producer Ilya Salkind and not director Szwarc.
Deleted material
Aside from the stiff editing in the film's original U.S. version, scenes that were left unseen for many years involved moments of importance. To begin, the Argo City opening was longer, and contained certain lines of dialogue that supported elements that would soon be seen later in the story. The cut dialog also developed the characters and their background. The pacing was also slower, digesting the actions enough before introducing the next chapter of the film. The next moment, and one of the most important of all scenes, was the "Flying Ballet".
As Supergirl lands on Earth, she is surprised to find herself capable of almost anything, especially flying. She can smash rocks, and use heat vision to help flowers grow. This scene establishes that she is very much like her cousin, and that she possesses the same powers. The absence of this scene in the U.S. theatrical version created confusion in later scenes. Viewers simply saw her shoot out of the lake, and fly all around the world.
The moments concerning Selena, Bianca, and Nigel were also trimmed. Selena's introduction was merely a few lines long, when the Omegahedron suddenly lands on earth, and Selena takes it for use of magic. The full introduction establishes Selena as an impatient witch, who is sick of being under her mentor and lover, Nigel, who is himself, a warlock. Later scenes not seen before the 2000 DVD release from Anchor Bay Entertainment, included Selena using the Omegahedron for the first time, and realizing that she has no control when under its influence. She later throws a party for all her followers. Deleted material for this scene involved Nigel insulting Selena after she dismisses him. He then gets cozy on another party member, whom Selena pulls a vicious magical prank upon. These scenes and moments listed show the characters's states of mind, and their determinations, and dialog that later brought the film to making much more sense. Other scenes/moments, involve Linda Lee making a temporary home in the city of Midvale, Illinois, an extended version of the tractor sequence, in which the possessed machine runs amok on the Midvale streets, even killing a civilian. Another cut scene was a clarification that proved Supergirl possessed her cousin's known vulnerabilities and limitations as well as his known super-human powers: she cannot see where the Omegahedron is hidden because Selena keeps it in a container made out of lead. The Phantom Zone scenes are also longer, showing dramatic strength in Kara as she is willing to fight to the death in order to stop the evil witch Selena. Eventually, these scenes were restored to American audiences in 2000 when Anchor Bay Entertainment released the film under their label.
The 2006 DVD release by Warner Home Video, whose parent company, Warner Bros., is the current rights holder to the Superman movies, is the International Edition, also called the "European Theatrical Edition." The original 150 minute version is rumored still to be out there[citation needed], in the vaults where all the Superman movie elements are (where they found Richard Donner's version of Superman II as well.)
Much of the deleted material appeared in DC Comics's one-shot comic book adaptation of the film, primarily the scenes that fleshed out Selena's character.
Future remake
At one point, Akiva Goldsman, screenwriter of The Da Vinci Code, Batman & Robin, and A Beautiful Mind, was rumored to be attached to write, but later was reported to only producing the film. It is currently unknown if Goldsman is still involved.
According to some reports by entertainment insiders, Mischa Barton is a possibility for the title role. As of December 2006, neither Warner Bros. nor any other studio has a Supergirl film on its roster.
Cast
Faye Dunaway ... Selena
Helen Slater ... Kara/Supergirl (Linda Lee)
Peter O'Toole ... Zaltar
Mia Farrow ... Alura
Brenda Vaccaro ... Bianca
Peter Cook ... Nigel
Simon Ward ... Zor-El
Marc McClure ... Jimmy Olsen
Hart Bochner ... Ethan
Maureen Teefy ... Lucy Lane
David Healy ... Mr. (Frederick) Danvers
Sandra Dickinson ... The Pretty Young Lady
Robyn Mandell ... Myra
Jenifer Landor ... Muffy
Diana Ricardo ... Mrs. Murray
Christopher Reeve was slated to have a cameo as Superman but bowed out early on. Director Jeannot Szwarc said in the Superman documentary "You Will Believe..." that his involvement in this film would have given the feature higher credibility and he admitted he wished Reeve had made a contribution to the film's production. Szwarc also said that the film that was made was not the best of his intentions as he thought a lot of the magic was lost once Reeve declined. A publicity photo of him outfitted in Superman's uniform, however, did appear as a poster in Lucy's and Linda's shared dorm room.
Marc McClure makes his fourth of five appearances in the Superman film series.
Demi Moore auditioned for, and was cast as character Lucy Lane, but soon bowed out to make the film Blame It on Rio. Maureen Teefy was signed instead.
External links
Community content is available under
CC-BY-SA
unless otherwise noted.