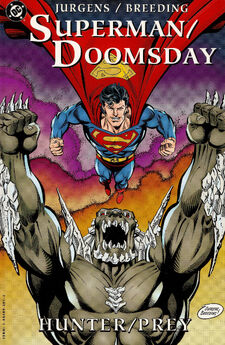 Superman/Doomsday: Hunter/Prey is a three-issue prestiege format comic book miniseries, featuring an epic rematch between Superman and Doomsday after their first battle in The Death of Superman.
Issues
Issue 1
Superman goes to Apokolips to investigate a possible Doomsday attack. Meanwhile, Doomsday invades Apokolips, rampaging across the planet before battling Darkseid. Hank Henshaw appears in a new black costume with red metal cybernetics and armor, taking advantage of the situation to conquer Apokolips.
Issue 2
Doomsday's origin is revealed; the story is told of his creation by Bertron.
Issue 3
The final showdown between Doomsday and Superman. Waverider helps him to send Doomsday to the end of time.
Characters
Planets
Community content is available under
CC-BY-SA
unless otherwise noted.