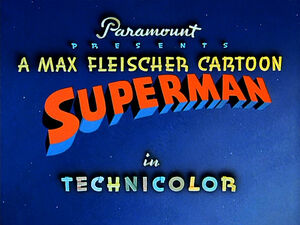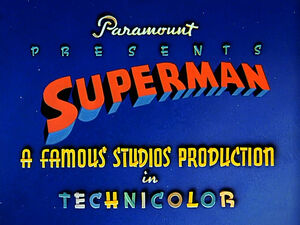 A series of Superman animated shorts were released to theatres during the 1940s, produced by the Fleischer and Famous studios.
The first eight cartoons were produced by Fleischer Studios (the name by which the cartoons are commonly known). In 1942, Fleischer Studios was dissolved and reorganized as Famous Studios, which produced the final nine shorts. These cartoons are seen as some of the finest, and certainly the most lavishly budgeted, animated cartoons produced during The Golden Age of American animation. In 1994, the series was voted #33 of the 50 Greatest Cartoons of all time by members of the animation field.
The first cartoon in the series, simply titled Superman, was released on September 26, 1941, and was nominated for the 1942 Academy Award for Best Short Subject: Cartoons. It lost to Lend a Paw, a Pluto cartoon from Walt Disney Productions and RKO Pictures.
The voice of Superman for the first few shorts in the series was provided by Bud Collyer, who also performed the lead character's voice on the Superman radio series. In the premiere short and others, Joan Alexander was the voice of Lois Lane, also reprising her radio role. Music for the series was composed by Sammy Timberg, the Fleischers' long-time musical collaborator.
Rotoscoping, the process of tracing animation drawings from live-action footage, was used extensively to lend realism to the human characters and Superman. Many of Superman's actions, however, could not be rotoscoped (flying, lifting very large objects, and so on). In these cases, the Fleischer lead animators, many of whom were not trained in figure drawing, animated roughly and depended upon their assistants, many of whom were inexperienced with animation but were trained in figure drawing, to keep Superman "on model" during his action sequences.
The Fleischer cartoons were also responsible for Superman being able to fly. When they started work on the series, Superman could only leap from place to place (hence "Able to leap tall buildings in a single bound" in the opening). But they deemed it as "silly looking" after seeing it animated and decided to have him fly instead.
Characters