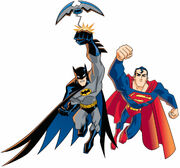 The Batman is an animated series that began airing on Kids WB in February 2004 and ended it run in March 2008. It started Batman and explored his career beginning with his early years as a mysterious masked vigilant of Gotham City, to becoming more of a public symbol hero aided by allies such as Robin, Batgirl and Commissioner Gordon on his war against crime to finally his later years as a full fledged Crime fighter and teammate of the Justice League.
Superman and his supporting cast of characters such as Lois Lane, Jimmy Olsen, Lex Luthor, and Metallo appeared in the fifth and final season of the series in a two-parter episode entitled The Batman/Superman Story which depicted a tale of the first team up with The Dark Knight and The Man Of Steel. Voice actor's George Newbern, Dana Delany & Clancy Brown reprise their respective roles in the episodes.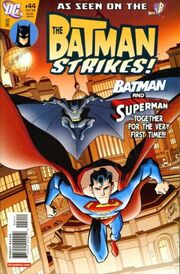 Before the series end their was also a comic book sequel in the publication : The Batman Strikes # 45 which sees the two join forces for an adventure in Metropolis. The world's Finest vs. Intergang.